Non-Floral Friday: Giveaway with Riotous Pink!
What a wonderful Non-Floral Friday we have for today! Not only does it feature a bundle of inspiring, non-floral crafts, it also includes a great giveaway!
Riotous Pink is all about flowers…but not those of the growing-from-the-ground variety. No, RP's flowers are made from felt and buttons, meaning they're just the kind of fun, whimsical, outside-the-box creations that make me smile from the inside out.
Too cool is the bride who carries a bouquet as unique as this down the aisle. What I love most about the concoction above is the diversity of its blossoms. While they're all of the same color scheme, no one flower looks alike. Each one is made with such loving artisty.
Riotous Pink works closely with each customer to make sure her bouquet is in perfect harmony with her upcoming event's theme and decor. Not positive an entire felt 'n button bouquet is for you? The desiger also creates boutonierres, corsages, centerpieces, and…brooches, the item of our giveaway!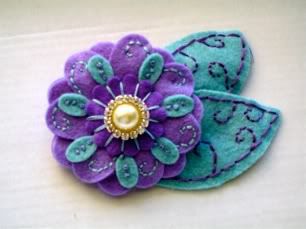 To win a beautiful brooch like the one above, visit Riotous Pink's portfolio and take a look at her previously created brooches. Then come back to Budget Bride and leave a comment telling us which brooch is your favorite. On Thursday, July 2, a winner will be chosen at random from those who have commented. The grand prize? A brooch designed to the winner's exact specifications.
Happy browsing!